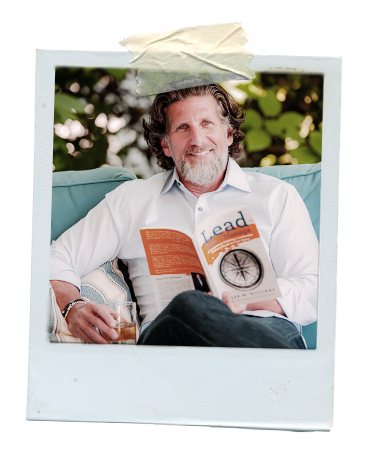 About Mark
Rewriting the rulebook.
Meet Mark. A leader in the world of financial planning and insurance, he's been challenging norms since age 16 when he started his career with a bet on his unfaltering work ethic.
Today, Mark's the CEO of Broker's International, constantly earning his seat at the table while also changing the way the table is set.
Making plans instead of rushing straight in. Building relationships and workplace alliances. Leaving margin for others or the unexpected requests that always pop up. Taking time to step away from the desk. That's how Mark leads with intention to find success that's sustainable.
Never one to shy away from making mistakes, Mark expects honesty, collaboration and to be challenged — just as he challenged his first boss–turned friend years ago. He looks forward to sharing his experiences with you.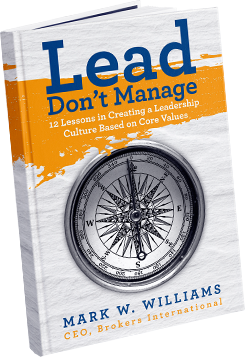 Lead, Don't Manage
In today's corporate world, the line between management and leadership is easily blurred. In Lead, Don't Manage, Mark Williams draws a clear distinction between the two — and serves as a guide in cultivating effective leaders at all levels of your organization. Grounded and accessible, Lead, Don't Manage offers proven techniques from Mark's experience to help employees grasp their impact and reach their potential. From emotional intelligence to relationship building, Mark unpacks crucial leadership skills that will shift your focus from projects to people.
Learn to be a leader who truly understands the role — serving others.
Speaking
Leadership is all about inspiration
Success requires inspiration and empowerment. Bring Mark to your next event and get both.
Selling Yourself as a Leader:
The impact of personal branding and crafting your story.
Authenticity in the Age of AI:
How to build human connections in an evolving digital landscape.
Management:
Hire to inspire. Great things will follow.
Generational Differences:
How truly knowing each generation can help you sell.
Sell Like a Boss:
Business-building ideas that cost you next to nothing.
Adapting Digitally:
How to prospect and thrive in a digital world
Annuities & Retirement:
Underused, misunderstood and the best thing for future success.
Marketing & Social Media:
Likes, followers, shares and what they all mean for you.